Tennessee Title Loan Software . . .
now with Tennessee Pay Day Loans and Cash Advances at no extra cost!


Our Tennessee Title Loan software includes Auto Title Loan Software with integrated Pay Day Loan Software, Cash Advance Software, Check Cashing Software and Money Order Software at no extra cost. We also rent, sell and support Tennessee Flex Loan Software, and Line of Credit (LOC) software similar to a credit card or home equity loan. And we have a module to produce Tennessee Industrial Loan & Thrift (TILT) contracts and Rule of 78s amortization schedules. We are a Tennessee-based company ourselves, and wrote our software "from scratch" for Tennessee title lenders and payday lenders. For more information, please call us toll-free at 866-802-5742 ext. 101 or fill out the contact form below!




Tennessee

Tennessee Title Loan Software
Tennessee Auto Title Loan Software
Tennessee Payday Loan Software
Tennessee Cash Advance Software
Tennessee Check Cashing Software
Tennessee Money Order Software
Tennessee Installment Loan Software
Tennessee Certificate of Title Software
For Tennessee, we have a multitude of customer features, including the state-mandated Schedule C (which is a real hassle to fill out by hand), the state-mandated Title Pledge Log, and the state-mandated Repo Log. We also have a wide variety of custom contracts, receipts and renewal notices for Tennessee. We have been based in Nashville for over 35 years, and have over 130 loan office installations in the state of Tennessee, and more than 1,000 installations in the USA and Canada altogether.

IF YOU WOULD LIKE TO DOWNLOAD OUR FULLY FUNCTIONAL DEMO, CLICK HERE

Please call us toll free for a free live demo, or to discuss your needs.
Toll Free Number: 1-866-802-5742 ext. 101

Or use the E-mail Contact Form at the bottom of this page.

Click here to see 519 contracts, letters, forms, reports and receipts
generated automatically by our software.

| | |
| --- | --- |
| | To see our interactive Title Loan Professional slideshow, please click the picture at the left. If you don't have a high speed Internet connection and the demo is too slow, please click here. For info on particular features, please click the links below. |
Click here to read the Tennessee Title Pledge Act, in PDF Format,
(45-15-100 through 45-15-120).


Main Program Features
Title Loans
Pay Day Loans
Cash Advance Loans
Installment (Amortized) Loans
Commercial Loans
Retail Loans
Lease Loans
Check Cashing
Money Orders

Advanced Features

Interface to Electronic ACH Software
Interface to TeleTrack
Powerful yet flexible Advanced Search Function
Multiple Cash Drawers with Electronic Reconciliation
Daily Reports can be e-mailed!
Advanced Security Features
Customize your own required fields
Customize "store manager only" functions
Manage multiple store databases from one PC
Track Employee Logins and Logouts for Payroll
Exclude "Store Closed" Days from Due Date
Vehicle Inventory interfaces to Title Loans
Dealer Tracking with Dealer Holdbacks
A powerful, flexible Keyword Report
With Keywords you can create Loan Denial and Litigation Logs
Support via Phone, E-mail, Internet, VPN and PC Anywhere
Create Your Own Reports and Queries with Microsoft Access

Forms and Reports Included

Title Pledge Agreements (many)
Title Loan Closing Statement (many)
Title Pledge Contract and Disclosure (many)
Deferred Presentment Services Agreement (many)
Cash Advance / Payday Loan Contracts (many)
Customer Payment Receipt
Payment Receipt and Extension Contract
Department of Motor Vehicle Forms
Affidavit of Fact
General Power of Attorney
No Liens Letter
Reminder to Borrower Letter
Privacy Notice
Title Key Receipt Letter
Renewal Notice
Right to Cure Letter
Late Letter
Repossession Letter (Repo Letter)
Thank You Letter
Electronic Funds Transfer Authorization Letter (EFT Letter)
Daily Transaction Report
Daily Receipt Log
Daily Summary
Cash Advance Summary
Loans Due Report
Loans Due by Name Report
Past Due Loans Report
Check Register
Client List
Notes List / Keyword Report
Returned Check List
Signed Off Check List
Cash Drawer Reconciliation Report
Unearned Fees and Interest Report
Reduced Interest Audit Report
Outstanding Loans by Status
Outstanding Loans by Name
Outstanding Loans by Due Date
Loan List-Title Loans
Loan List-Cash Advances
Loan List-Check Cashing
Inventory List
Customer Data Verification Form
Employee Login/Logout Sheet (for Payroll)
The Notes List can be used as a Keyword Report to track keywords such as "loan denial", "litigation log", etc.)

All our forms and reports are customizable, so if you have special needs, we can adapt our software to your business. Also, we have the ability to make our software meet the regulations of highly regulated states.
We are adding features to our software on a daily basis, so please check with us if you have specific needs. We have been developing custom software for over 20 years, and chances are that we either have the solution you need, or that we can provide it at either a very low cost, or even at greatly reduced costs or no cost at all (if we think the feature will benefit our other customers).
We can also help you transfer and convert your data from many other programs, including clunky old DOS programs and less advanced programs from our competitors. Our software is compatible with Windows 95, Windows 98, Windows Me, Windows NT, Windows 2000, Windows XP Home, Windows XP Professional, and any Windows network. We offer phone support, e-mail support, and remote support with PC Anywhere and through wide area networks and VPN networks. With our program, you can easily access your data through Microsoft Access, Microsoft Office, Microsoft Word, Microsoft Excel, Microsoft Outlook, and it is possible to interface your data to popular accounting programs like Peachtree and Intuit's Quicken and Quickbooks.

Features:
We offer a friendly, prompt, knowledgeable support staff.
We have been in business for over 20 years.
We have provided software and services to over 400 customers worldwide.
Our software is based on Microsoft Access, by far the most popular database in the world, and an integral component of Microsoft Office Professional, the number one office productivity suite on the planet.
We can change, modify or adapt our software to meet your company's needs
Pricing for Title Loan Professional from Alpha Omega Consulting Group, Inc.

You can rent our loan software for as little as $195 per month, or buy it for as little as $995, depending on your state, number of users and required features. Please call 1-866-802-5742 ext 101 for a quote customized to your specific needs. We are currently including Title Loan, Payday Loan, Cash Advance, Installment Loan, CAB/CSO, Check Cashing and Money Order features in our base program prices, although some of our competitors charge for each modules separately (and most of them don't have all these modules to begin with). However the prices do vary by state. If you have multiple loan offices, the prices for additional stores may be discounted, and if you need special forms or features, our program is customizable, so please call for a free consultation and a no-obligation, tailored quote to meet your specific needs. If you buy our program, we have a low-cost, flexible annual support agreement, which costs as little as $50 per month. If you need additional technical support, we can tailor an annual support contract to your company's needs. The annual support agreement is optional, so you are not required to pay for support you don't need. We have advanced features which can be purchased at very reasonable prices (and we heavily discount our prices when multiple add-ons are needed):

Photo Management
Title Loan Protection, a product from Lloyd's of London designed for title lenders to help boost their revenues and profits
Debt Obligation Waivers (also called Debt Cancellation Waivers)
Automatic text messaging is our most popular add-on module and can turbo-charge your company's cash flow and profits
Flex Loans (similar to credit card loans and home equity loans)
TILT loans (Industrial Loan & Thrift)
A Motor Vehicle Equity Line of Credit (MVELOC) is like a home equity loan but secured by a motor vehicle
An Equity Line of Credit (ELOC) is like a home equity loan but secured by some other form of collateral
An Unsecured Line of Credit (ULOC) is similar to a credit card with a revolving line of credit
Line of Credit loans are legal everywhere in the United States!
Loan Consolidations allow you to print multiple checks to pay off other loans
Miscellaneous Transactions allow point-of-sale transaction for sales of phone cards and other items
ACH interfaces increase cash flow and profits, for a few cents per transaction
Our Teletrack interface can help you avoid making loans to known rip-off artists
Our Black Book interface helps you determine current vehicle valuations
Accounting interfaces (Quickbooks, Peachtree, etc.) can reduce data entry, especially for multi-store operations
Multi-store consolidation reports let you manage your stores remotely
Customized programming: please call for a quote

Tennessee Company Setup Guide:

From our discussions with store operators in Tennessee, these are the set up steps and parameters most often used. These are guidelines only and it is the responsibility of each lender to be in full compliance with federal and state laws, which are subject to change and interpretation.

First, insert the CD into your CD drive. The following installation screen will appear: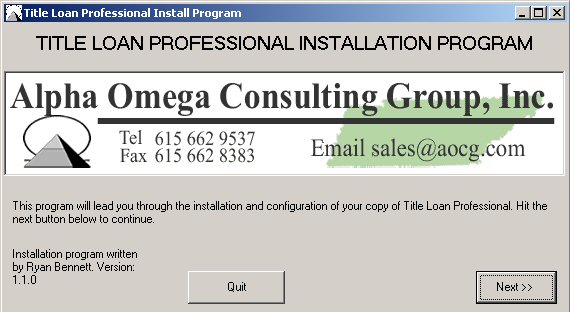 You must click on the "NEXT" button to start the installation.
If the program is going to be installed on only one computer, select "Standalone," then click the "NEXT" button to continue.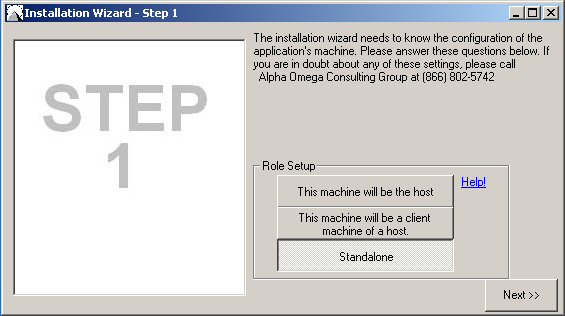 If you are installing the program on a computer that will host the database for other computers, click "This machine will be the host," then click the "NEXT" button to continue.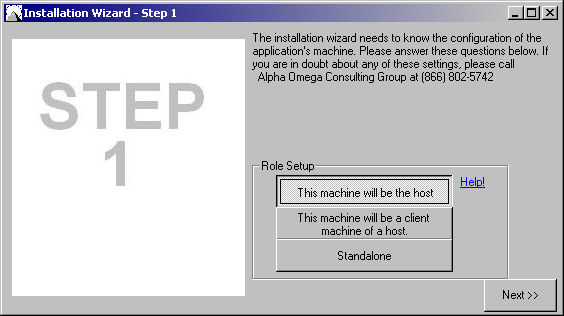 If you have already installed the program on a Host Server/Computer and you are now installing the software on additional computers, click "This machine will be a client machine of a host," then click the "NEXT" button to continue.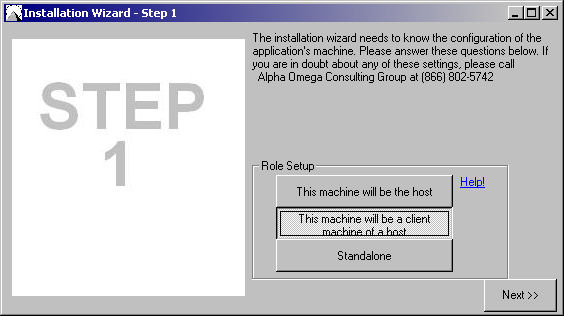 Next, the program needs to know if this is the first time the program has been installed. If a demo was previously installed, that does not count as a previous installation. You must select the appropriate selection on Step 2 below, then click the "NEXT" button to continue.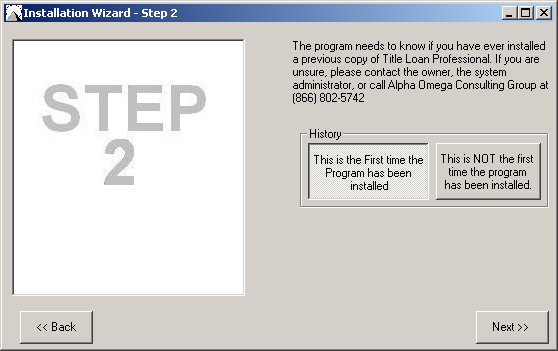 Next you must instruct the program on where on your computer it should install Title Loan Professional PLUS. We recommend the default setting as shown below. Do not change the defaults without talking to our tech support staff first, as you may not be able to update the software if any other setting is used.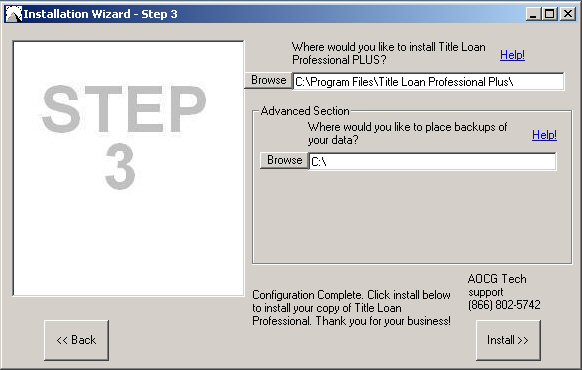 If you have previously installed the program and are updating your installation, the program needs to know where to create any backups of your previously entered data. We recommend the default as shown above.

Once your have completed this section, click the "INSTALL" button, then click the ">>Begin<<" button to start the installation. You will notice a progress thermometer indicating the stage of completion.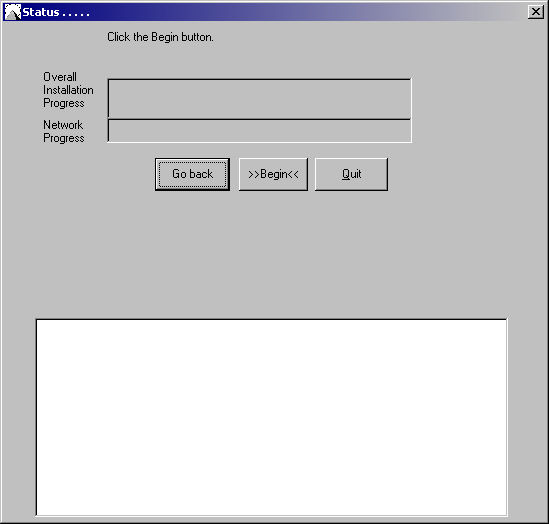 The program, once installation has completed, will automatically load Title Loan Professional PLUS and the following Login window will appear. At this point you should contact Alpha Omega Consulting Group, Inc.. If you are in Tennessee at 615-662-9537 or in other states at 1-866-802-5742 for the initial Username and Password.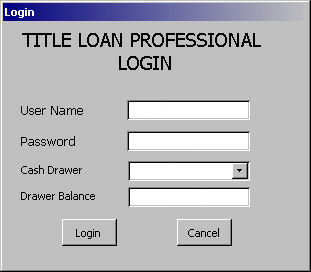 You must provide the login window with a "User Name", "Password" and must select a "Cash Drawer" by using the drop down arrow to the right of "Cash Drawer" then click the "Login" button.

Once you have logged in you should follow the instructions below to setup Title Loan Professional PLUS if operating in the state of Tennessee.

Under menu option Tools, Company Setup, General Information, enter your Company Name, Store Name, Address 1, Address 2 (if applicable), City, State, Zip, Phone, Fax, TeleTrack ID (if applicable), TeleTrack Pass Code (if applicable), Dealer Number (optional), License Code (optional), Primary Contact, Business Hours (example - Monday - Friday 9am - 7pm Saturday 9am - 3pm). This information may appear on various contracts, letters, forms and reports generated by Title Loan Professional PLUS, so all information should be accurate. If you have a company logo or a company signature to print on checks this is the screen to install those, but they are not required to begin using your program. You must provide digital files for your company logo and signature to AOCG for sizing in order to use these fields. The electronic signature and company logo fields should always be blank unless you contact AOCG to activate these features. Do not type in these fields!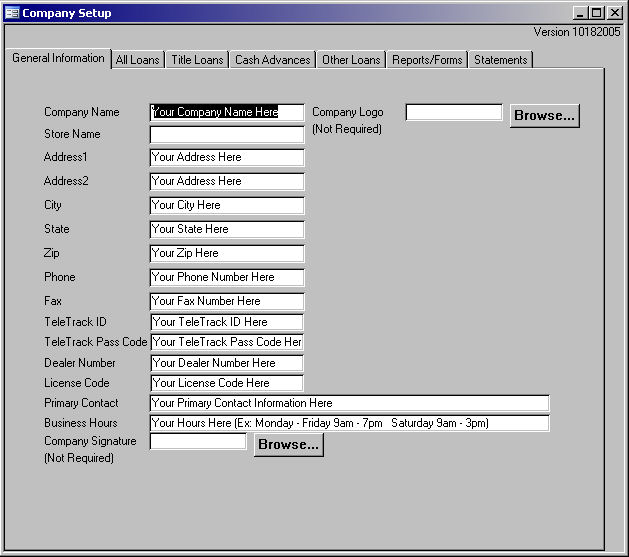 The next section is the All Loans tab. Most operators leave the default prefix for loan type and have the program automatically assign loan numbers with no max open loans. The Returned Check Fee should be what your company charges clients for returned checks, within state-mandated limits. Most stores do not use Loan Suffixes, so leave the box unchecked. The default number of days to be used when calculating Daily Interest and APR for Cash Advances is 365, which is always used. The Default Cash Drawer Balance can be whatever is custom for the company, for example $100.00. The other option on the cash drawer is to use the previous days balance. In this case put a Zero in the box or leave blank. Select a Label Printer even if you are not printing labels.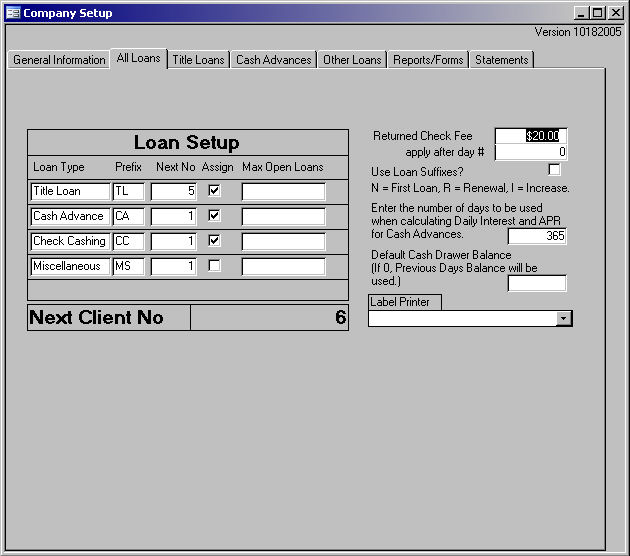 The next section is the Title Loans tab. Under Default Interest and Fees, the first line in the Amount column should be 2.00%, the Description should be "Simple" by clicking the drop down arrow and selecting "Simple", then the Recurring Description column will display "Interest". Select the type by clicking the drop down arrow and selecting MPR. You should then place a check in the Initial column box, by clicking on it. The Recurring box should also be checked to ensure that the Interest is calculated every month on the loans made.

The next line you can enter 20.00% by clicking in the box and entering the amount. By using the drop down arrow in the Description column, select Origination Fee. The Initial check box should be checked and the Recurring check box should also be checked. The Recurring Description should display
"Renewal Fee" by clicking on the drop down arrow then selecting "Renewal Fee".

Below the above fields you will see Max Terms which should be blank, the Accrual Period in the next column to the right should be set to "Loan Length", the Max days should be blank and the Due Date Calc should be set to "Default" by using the drop down arrow.

Below this you will see, "Min Renewal Payment: Fees Plus. This field should contain 5.00% of "Original Loan Amount" for Tennessee. Starting with renewal no. "3".

Under the Alternate Interest and Fees Section, you should go down to the line "Loan length in days. Enter 1 for due dates on the same day each month or enter "30" for a standard month. Next is Change account status to "to be repoed" after how many days late?", this should be set to "99"

The next line, to change account status for repossession, is self explanatory. The general number of days is 4 for most store operators in Tennessee.

The next line is where you can select which TN contract to use, there are several to choose from so pick the contract that works best for your company.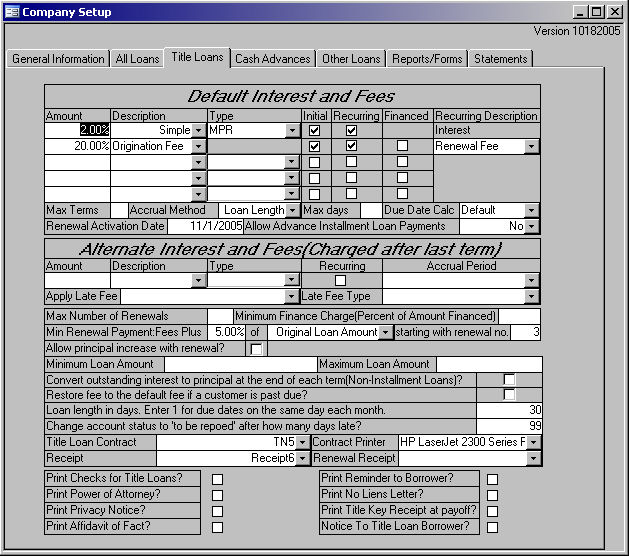 The next line is the receipt type, so again pick the one that works best for your company.

The next line has a box to check if you want to print checks for your title loans. If you do want to print checks there is a option on the Company Setup General Information screen to install a electronic signature to print on your checks. Call Alpha Omega to discuss this option. You may put check marks for each item that you desire to print along with the contract and receipt. The options are "Print Checks for Title Loans?", "Print Power of Attorney?", "Print Privacy Notice?", "Print Affidavit of Fact?", "Print Reminder to Borrower?", "Print No Liens Letter?", and "Notice to Title Loan Borrower?". One item prints upon title loan payoff, "Print Title Key Receipt at Payoff?".

The next section to configure is the "Cash Advances" tab.

Cash Advance Length (days) should be set to "14" with the Max Length in days set to "30". You must also select a Cash Advance Contract for Tennessee (TN1 through TN7) with the highest number being the most recent contract. Renewal Receipt can be left blank (uses default receipt) or you can select a Renewal Receipt at your own discretion.

Next you must decide if you will be using the program to print Cash Advance checks. If you desire to have the program print checks, you must have laser checks compatible with our software. Call AOCG if you are looking for a vendor for checks. If you have decided to let the software print checks put a check mark after "Print Checks for Cash Advances?"

The next selection is "Print Privacy Notice?". If you put a check mark here a Privacy Notice will be printed with the Cash Advance Contract.

Everything else on the "Cash Advances" tab should be left blank.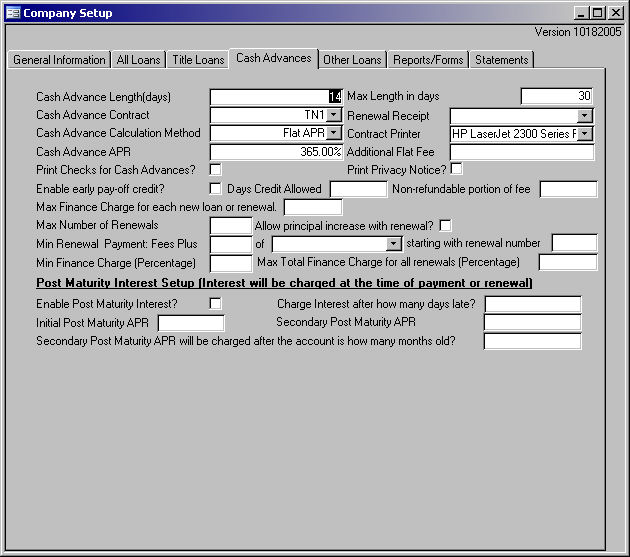 The next section to configure is the "Other Loans" tab.

The "Default Check Cashing Fee" is at your discretion but is generally 3.00" or higher being the most common fee percentage.

You must then select a "Check Cashing Agreement". You should select "Agreement3" in Tennessee.

"Profit Per Money Order" is a flat dollar/cents profit per money order sold.

The "Alternate Cash Advance Loan Renewal/Minimum Finance Charge Parameters" is not used in Tennessee and should be left blank.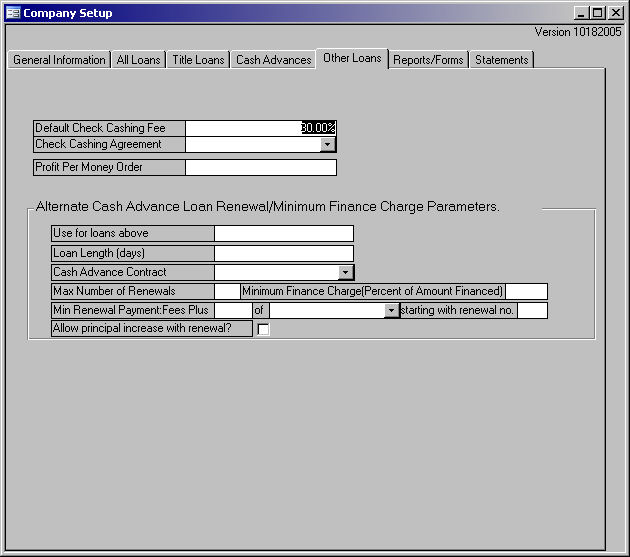 The next step is to configure the "Reports/Forms" tab.

"Default Loan Type" - the most common loans are Title Loans, Cash Advances or Check Cashing. Your "Default Loan Type" would be the type loan you issue the most.

We recommend that the "Default Print Method" be set to "screen". This will keep your users from wasting paper unnecessarily.

The "Daily Summary (YTD Totals)" should be set to the default settings.

The number of copies section should be left blank for 2 (two) copies or you may enter a number at your discretion for less than or more than 2 copies.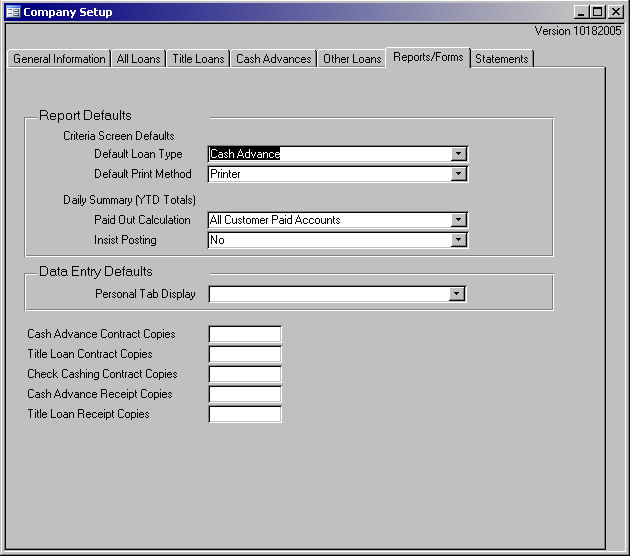 The "Statements" tab is not used in the State of Tennessee.

Tennessee Title Pledge Act – Specifications and Due Diligence

The purpose of this document is to inform our customers and other parties who have contacted us in the past about the current status of the Tennessee Title Pledge new "November 1" regulations, particularly as they affect computer software. For those who are not in agreement with the state, or aren't sure that the state is providing the proper direction and interpretations of the new law, you might be interested in hearing the comments of "Mr. X" (a very knowledgeable operator with millions of dollars in title loans in the state of Tennessee, who has hired three top Nashville lawyers to represent his companies).

Alpha Omega Consulting Group (AOCG) is a Nashville-based company, and we have been for 25 years. We have many customers using our software all over the state of Tennessee, and we are basically finished with the process of changing our software to be compliant with the new Nov. 1 regulations. The beta version of our program was released October 15. If you'd like to receive a demo that includes our Nov. 1 program changes, please contact me (Mike Burch) by replying to this e-mail or calling me at 662-9537 in the Nashville area, or toll free at 866-802-5742.

Some of the new regulations are "up in the air" and the state has yet to answer some basic questions, so it is very likely that there will be more than program update, perhaps several, over the course of the next year. Our goal will be to meet the state regulations as they are explained sufficiently, and being a Tennessee-based company, we think we have an advantage over our competitors in that regard.

If you haven't made a decision about the software you'll be using come Nov. 1, please keep in mind the old adage "He who hesitates is lost." We are a bit shocked that hundreds of Tennessee stores are running software they know won't work on Nov. 1. Everyone can't wait until the last minute. If your store employees can't compute each title loan two ways (one method will be using the current principal of the loan, the other will be using a graduated schedule that varies month-by-month based on 5% principal reductions), then you may have a major problem. You'll need a separate calendar and spreadsheet for each loan, because you can't forecast what your clients will pay toward principal each month, and therefore the state-mandated minimum payment including the 5% principal reduction will be unpredictable. A client might be ahead of schedule one month and behind the next. If you can't realistically expect your employees to do the math correctly in every possible scenario, having TN-compliant software is very important.

The purpose of this e-mail is just to let you know what we have heard from the state of Tennessee and our many Tennessee clients, and how Title Loan Professional will be changing to comply with the Nov. 1 regulations. If you use other software, this list of changes might help you make sure your software will be in compliance. Please do not forward this email to another software vendor, as this is confidential, proprietary information. However, you are free to ask your software vendor to let you know what changes they are making, to see if their software will be "up to snuff" come Nov. 1. If you wish to discuss the release of this information to other parties, including our competitors, please call us first.

The first part of this e-mail is a "quick summary" of the changes we are making to our software. The remainder of the e-mail is an "in-depth" explanation of what we have been told by the state, what the state has not been able to tell us, and what some of our multi-store operators have told us in response to our questions. If you would like your input added to this discussion, please answer the questions in the in-depth section of this e-mail. Just look for question marks. If we don't hear from you and you use Title Loan Professional, your program will work the way the companies who took the time to respond decided, based on a "majority rules" democratic method. We do value your input, and your vote will count, so please feel free to speak up!

Here's the "quick summary" of the changes being implemented for Title Loan Professional. If you disagree with any of these changes, or have any questions, please let us know as soon as possible.
The "biggie" is the 5% principal reduction schedule starting with the 3rd renewal
This is more complicated than it sounds, so please call for an in-depth explanation
A new Repo Log, per the state's specifications
A new Title Pledge Log, per the state's specifications
New contract verbiage for all five versions of our TN title loan contract
The main changes are for the automatic renewal and the 5% principal reduction
There are a number of new state-mandated clauses in a 14-point bold font
There is a new returned check fee clause suggested by a TN auditor
A revised Renewal Notice with the address to show through a window envelope
A revised payment Receipt, as suggested by the state to one of our clients
The minimum payment shown on the receipt and renewal notice will include the 5% of principal
Because the principal reduction is not absolutely required, there will be a new "renewal payment" field
Both the F&I min. payment and the renewal payment will appear on the loan screen
It will be your decision whether to accept the F&I min. payment or require the renewal payment
Most of our clients say they will not default a client for missing a 5% principal reduction
The state says you can defer the 5% principal reduction, but the F&I must be reduced 5%
There will be an option for two "repo in progress" loan statuses
One status will continue to accrue fees and interest
The second status will not accrue fees and interest
This way, you can control when the fees and interest stop accruing on an in-progress repo
On new loans, you will be able to specify the original loan date and original principal
This is needed in case a loan needs to be backdated, re-printed or re-signed
Since loans cannot be refinanced, this is imperative to get clients on valid new contracts
Please call for further explanation of why this critical feature is needed
The ability to have multiple loans on a singe vehicle with a $2,500 combined limit
The following fields will be added to the Account Summary screen: Original Loan Date (editable), Original Loan Principal (editable), Current Renewal Number, Min. payment F&I only, Principal Reduction Due, Total Payment Due with Principal.

Now, for the "in detail" discussions that lead to the "quick summary" above ...

Question marks are things you can convey to us, so please let us have your comments. Text in italics comes straight from the TN Title Pledge website. Where our clients have commented, you will see the person's initials and their comments. Where you see "per TN" or "TN says" this indicates information given to us by the state of TN verbally (please keep in mind that this does not mean the information is binding). Where you see "MRX" you can hear the comments of an operator who has hired three top lawyers to get professional advice on these matters. Mr. X is usually not in agreement with what we've heard from the state or the majority of the lenders who use our software, but it's always good to hear an educated viewpoint from someone "in the know."

Repo Log: Customer Info (loan number, customer name), Vehicle Info (year, make, model, color, VIN), Account Info (account balance, maturity date=payment due date per TN, # days past maturity date, total owed), Repo Info (date=actual date of repo, date available (for sale=repo date+20 days per TN), cost of storage, repo cost, redeemed/sold/caught-up (pick the appropriate word per TN), date sold, name of purchaser, salvage price of vehicle), Sale Info (# days held before sale=days between repo and sale, date sold, name of purchaser, method of payment, sale price of vehicle, amount due to customer=sale amount-total due). Will be run from a repo issued date, to a repo issued date, and will only list loans with an entry in the "Repo Issued" date field if a report type of "All Repos Issued" is chosen, or an entry in the "Received Vehicle" date field if a report type of "Actual Repossessions Only" is chosen. Our current plan is to put the new fields above on the Repo form and have the user enter them manually on a repo-by-repo basis. Please give us your opinion on this report if you have other ideas. There are two "name of purchaser" fields. Do you know of any reason why there should be two different names on one Repo Log entry? If so, please explain. Otherwise, we will use the same name in both places.

AOCG updated software methodology: the report to work as described above.

Title Pledge Report: Date (the loan date or the renewal date, per TN), Agreement number (TLP loan number), New, Renewal (the word New or Renewal, per TN), Customer Name, Residence Address (full address, including city, state, zip, per TN), Date of Birth, Physical Description of Pledgor (height, age, color of eyes, per TN), Social Security Number, Make, Model, Year, VIN, License Plate Number, ID Number of Photo, Issuing Agency (State/Federal). This report will be run from a date to date, with each renewal being picked up based on the renewal date, per TN.
AOCG updated software methodology: the report to work as described above.

CB says: we will forward a sample of our idea of this report to AOCG (but not received). KL says date is original loan date, new=new loan amount, renewal=renewal amount, pledgor description can be "see driver's license", normally use drivers license for photo ID, state=TN/NC/etc. TN said pledgor description should not be "see driver's license" but can be the basic information on the license: age, height, hair color, eye color. TN also says New/Renewal is the word New or Renewal, not the amount.

Contracts: Contract wording change for automatic renewals: 45-15-113(a) of the Act sets forth the term of the title pledge agreement as 30-days; however, "such agreements may provide for renewals for additional 30-day periods, which may occur automatically," unless one of four (things) has occurred as enumerated under 45-15-113(a) (1) through (4). The loan agreement must specify that automatic renewals will occur if that is the intent of the agreement. Additionally certain disclosures must be provided the Pledgor with every renewal as specified in 45-15-113(b). The title pledge lender must substantiate that the applicable disclosures were provided and document the loan file accordingly.

Here is a clause we've been asked to add by one of our clients. Unless we hear otherwise from you, this clause will appear on the new TN contract in a bold 14pt font: "This contract automatically renews every 30 days. According to Tennessee Code Annotated, Section 45-15-101 of the Tennessee Title Pledge Act and Amendments, signed June 17, 2005, you are now required on your 3rd and every subsequent renewal to pay 5% of your ORIGINAL LOAN AMOUNT (i.e., the original loan Principal). This 5% of the original Principal will be added to your renewal payment of Fee and Interest. If you do not pay the Renewal Fee and Interest, plus the Principal payment, your vehicle will be in jeopardy of repossession."

AOCG updated software methodology: the contract wording above, plus other TN-mandated clauses to appear in a bold 14-point font.

KL will use contract TN1, Receipt1. CB will use contract TN3, Receipt 1. JM will use contract TN3, Receipt1(Unsigned). MRX says that a toll free number and other contact information has to appear on the contract for client questions, in a 14pt bold font, but he doesn't know what the toll free number is. It's good to know he's human like the rest of us.

Suspension of Automatic Renewals: Please tell us is there any case in which you would want the program to stop automatic renewals automatically, without the loan status being changed to "Paid in Full" or "Write-Off" or "In Possession." Also, do you want the program to continue to renew and accrue interest while the loan status is "To Be Repoed" (this is default behavior of the program, but you have the option to change this). One client has suggested adding a new loan status: "Repo in Progress, No Interest" so that the user can pick between a "to be repoed" loan that continues to accrue interest, and one that doesn't. Do you agree or disagree? As we understand it, these are the things that can happen to trigger a loan to stop renewing, per 45-15-113 and our discussions with multiple clients: (1) Client exercises 24 hour right of recision. (2) Client fails to pay 5% principal reduction (lender has the option to defer unpaid principal to the end of the loan). (3) Client pays off loan in full. (4) Client surrenders car. (5) Lender notifies client that loan will not be renewed. (6) Default. From discussions with our clients, it appears that some lenders will stop accruing interest only when the vehicle is actually in their possession, at least until TN delivers a clear ruling (do you agree?). Please keep in mind that if the program over-accrues fees/interest, you can always credit the fees/interest, with a memo of something like "Repo Fees/Interest Credit." It is our understanding that TN is currently discussing an option to continue accruing interest for 60 days from the last period actually paid (or something like that). As of 10-3-2005, this was still in the works, per TN. We don't see this as a programming issue, per se, but of companies like yours knowing and deciding when to stop accruing fees/interest, and when to credit any fees/interest in excess of the state-allowed amounts.

AOCG updated software methodology: you decide when a loan stops accruing interest and fees.

KL says: current method is still okay for us, says interest can be accrued for 60 days, add new loan status for "To Be Repoed, No Interest". TN said that this 60 day period is being discussed, but there is no definitive ruling as of 10-3-2005. RB says: AOCG method is okay, will write off over-accrued F&I. RH says: the client is not in default until we locate the car, will continue to accrue F&I till then. MRX says: Default occurs when the repo is issued, not when the car is in possession. He and his team of lawyers disagree that the state can "interpret" default to mean something else and that an interpretation of "default" as being only when the car is in possession would not hold up in court. In his own words, MRX says: "I have heard from you and from others that the state may take the position that you can place a car out for repo that is not yet in default. One of our attorneys (literally) laughed out loud when we posed that legal position to him ... I know [many] of your clients are small, and don't want to spend a lot on lawyers, etc., but I would advise their getting some legal advice before blindly following the state's directives ... they may themselves on the wrong end of a very ugly class action. With these surety bonds in place, the consumer advocate lawyers are going to be swarming, because they now know there will be a $200,000 bond there from which to extract a judgment and/or settlement. Just my 2 cents worth..." However, based on the legal research below, MRX later said, "Actually, Mike, I am working with an attorney right now that is telling me he thinks WE CAN draft a contract that will allow for us 'to go looking' for the car and still not declare the loan in default. He and I are working on language to that effect even as we speak. I have to tell you... the concept of sending a repossession agent out looking to repossess a car on a loan that IS NOT in default runs counter to my basic sense of logic... But I leave the law to the lawyers, and we are working with one now who believes that if the language is drafted 'very carefully', we can put a car out for repo without declaring the loan in default."

Here are the research findings of a third party on the legal meaning of the term "default" for industry purposes in Tennessee: ... The term "default" is not specifically defined in the Title Pledge Act. However, it is referenced in a couple of places. Section 45-15-113 states that title pledge agreements and property pledge agreements (referred to herein as "agreement") may be automatically renewed for thirty (30) day periods unless there is a default by the pledgor of any obligation pursuant to the agreement. § 45-15-113(a)(4) (emphasis added). Further, in § 45-15-114(b), the term "default" is again referenced in the context of a default of any obligation pursuant to the agreement. Under Tennessee law, statutes are construed by first looking to the language itself and applying its natural and ordinary meaning, without forced or subtle construction that limits or extends the meaning of the language. State of Tennessee ex rel. Pope v. U.S. Fire Ins. Co., 145 S.W.3d 529, 535 (Tenn. 2004); Pursell v. First Am. Nat'l Bank, 937 S.W.2d 838, 840 (Tenn. 1996). The courts are to "give statutory terms their well-recognized common law meaning as long as doing so is consistent with the remainder of the statute and is harmonious with its general purpose." Davenport v. Chrysler Credit Corp., 818 S.W.2d 23, 28 (Tenn. Ct. App. 1991). I looked at the definition of "default" in Black's Law Dictionary. The definition is "omission or failure to perform a legal or contractual duty; esp. a failure to pay a debt when due." I then looked throughout the Tennessee Code Annotated for a definition of "default." I only found one in the Self Service Storage Facility Act, which is "the failure timely to perform any obligation or duty set forth in this chapter and the rental agreement." Tenn. Code Ann. § 66-31-102. Default is naturally referenced throughout the Code, but not so specifically defined. In the Uniform Commercial Code dealing with Leases, the statute says that whether a lease is in default is determined by the lease agreement and "this chapter." Tenn. Code Ann. § 47-2A-501. The parties can define the term "default" in their contract. The courts will likely interpret the term to mean any failure to comply with any contractual duty. The contractual duties should mirror any mandatory statutory provisions. For example, § 45-15-110 requires certain mandatory language and terms to be in the agreement. The parties cannot agree in their contract that the maturity date will be ten (10) days from the date the agreement was signed and then declare a default when the borrower fails to pay at the end of that ten (10) day period because the statute states that the maturity date "shall be thirty (30) days" after the agreement is executed. Except for these few exceptions that are specifically stated in the statute, the parties are free to define "default" in the contract.

Here are the thoughts of another legal mind: The default provision of § 45-15-113(a)(4) may be construed as a lender-protection provision which creates a condition precedent to the borrower's right to renew. As a lender-protection provision, it should be waiveable by the lender, permitting automatic renewal by the lender subject to the constraints of Section 10 of the amendments. Such a construction of the default provision is consistent with the standard construction of the default provision of the U.C.C., § 48-9-601 et seq. It is well settled that under the U.C.C., default is defined by the contract between the parties, and default can always be waived by the lender. Such a construction of the default provision is also consistent with other provisions of the amendments which generally contemplate the continued accrual of fees and interest until repossession. For example: Section 9(b)(3)(C) provides for notice to the borrower that additional interest and fees will be charged if the borrower fails to "pay the debt in full when due"; Section 10 places a limit on the deferral of fees and interest, which implies that, subject to this limitation, fees and interest can be deferred; and, Section 11(b) provides that no further interest or other fees can be charged from the commencement of the twenty (20) day holding period, which implies that fees and interest can be charged up to the time of repossession which typically occurs after default.

SSN: The social security number should not appear on the contract, per TCA 45-15-110.

AOCG updated software methodology: the SSN will not appear on the new TN contracts generated by our software.

Renewal Notice: TN says the Renewal Notice must go out 5 days or more before the payment is due. The information on the Renewal Statement would be: Loan number, Scheduled Renewal Date, Payoff Amount and Payoff Date to avoid automatic renewal, Monthly Rate of Interest, Monthly Rate of Fee, APR, Original Principal Balance, Present Loan Balance, Monthly Fee and Interest to be added if not paid off, Total Dollar Cost of Credit for the new 30-day period, Total Amount Due after loan renews. We will format the customer name to fit through a standard window envelope, and there will be an option to print a batch of statements by due date range, including past due clients whose loans are still active (still accruing fees and interest).

AOCG updated software methodology: the renewal notice to work as described above, with minor changes suggested by TN.

SH says it must be mailed 7-8 days in advance to be received 3-5 days in advance of the due date, and that the renewal notice must show the Federal Truth in Lending Disclosures. KL says state will accept our current renewal notice with minor modifications and has verified this with TN.

Old "legacy" loans: do you intend to refinance all loans starting Nov. 1, so that they will be done on a contract with the new contract wording? If not, please explain. We will have an option in the software to allow you to specify the original loan amount and loan date so that the 5% reductions will be correct if you do reprint contracts with the current principal due on the loan.

AOCG updated software methodology: you choose whether to refinance or not.

CB says state will not require new contracts on grandfathered loans. SH will do all new contracts. KL will do new contracts. RS will do new contracts. TN says "we don't know, will try to verify." RB says we will probably print new contracts. RH says we will do a "wash" refinance, printing new contracts. MRX says the state cannot apply the new Nov. 1 regulations to contracts made under the old law and that the 5% principal reduction should not apply to grandfathered loans. He says the state cannot make the new law retroactive to grandfathered loans.

Principal Reductions: The principal reduction requirement set forth in Section 10 of the amendments to the Act provides for the manner in which principal reduction is to be applied. The principal reduction requirement becomes effective November 1, 2005. For title pledge agreements entered into November 1, 2005 and after, the principal reduction requirement is to be applied at the third (and subsequent) renewal(s). If a contract was entered into prior to November 1, 2005, the Department will consider the month of November to represent the initial contract month for purposes of principal reduction; therefore, (in this example) February 2006 is the first month during which principal reduction would be applicable.

A 5% principal reduction is required on the 3rd renewal and each subsequent renewal. Do you interpret this to always apply to the current actual principal, or do you have another interpretation? For instance, if a client is way ahead of schedule and then can't come up with and additional 5% one month, would you look at his pre-computed schedule and say that he's okay, or would you say an additional 5% is always required, regardless of his being ahead of schedule? One of our clients reports: "I asked Steve Henley about how to handle the principal reduction if a customer has a $100 loan and comes and pays their $22 f&I, plus $50 the next month, reducing the loan balance to $50. His next 2 payments would be $11.00 each, however on the next payment it would be $16.00. The principal reduction payment is always based on the ORIGINAL LOAN AMOUNT no matter how much the have paid down until it is paid off."

AOCG updated software methodology: it is our intention to always use 5% of the original loan amount, unless we hear otherwise from you. It will be your option to accept the F&I minimum payment and defer the 5%.

CB wants to pre-compute, allow client to not pay 5% if ahead of schedule. SH says 5% is always required, based on original principal. KL says always required. RS says always required. JM says always required. RB says always required. MRX says he believes the new law is very clear that a client does not have to always pay a 5% principal reduction if he is ahead of schedule in paying down principal. MRX says 5% principal reduction is not required at all on loans signed prior to Nov. 1.

Principal in Arrears: What will your company do if the client can't pay the 5% principal reduction? Will you (1) require him to pay the scheduled minimum payment or be in default, (2) reduce the interest by the required 5% and defer the principal payment, (3) some other method?

AOCG updated software methodology: the updated program will handle either method 1 or 2, your choice.

CB will not default automatically. SH wants option to defer, also wants option to take 5% from interest and apply to prin. reduction (voluntary reduction of interest). KL says no conversion of interest payment to prin. payment. RS says show principal in arrears on receipt. JM says renew the loan and defer the principal. RB says renew the loan and defer the principal.

Third Renewal: The term 3rd renewal in itself can be somewhat confusing. We take this to mean the 3rd time the loan is renewed, which means the 4th installment (scheduled payment) of the loan. Do you agree? When the loan is first made, that is an installment, not a renewal, and the first payment made is of the origination fee. The 1st renewal of a loan is the 2nd installment of the loan. The 2nd renewal of the loan is the 3rd installment. The 3rd renewal of the loan is the 4th installment, or 4th scheduled payment. Please let us know if you want the 5% principal reduction to kick in on the 4rd installment (3rd renewal), as in this example. The minimum payment will be the fee plus the interest, plus 5% of the original loan principal starting with the 3rd renewal, or 4th scheduled payment. For example, on a $1000 loan made on Jan 1 and due Jan 31, the Jan min. payment would be $220, the Feb. min payment would be $220, the March min. payment would be $220, and the April min. payment would be $270, assuming the minimum payment was the only amount paid each month. Do you agree or disagree? If so, please explain.

AOCG updated software methodology: there will be 3 payments w/o 5% principal required.

CB agrees with AOCG. SH says 2 payments w/o principal, 3rd scheduled payment starts 5%. KL says there will be 3 payments without the 5%, the 4th scheduled payment is when the 5% kicks in, says Steve Henley has confirmed this three times. RS agrees. RB agrees. RH disagrees, says state will probably reverse this interpretation to 2 payments w/o principal. MRX agrees with the AOCG method.

Receipts: Which payment receipt number are you using with our software, and do you see any need for changes to the receipt? If so, please list all the fields that you want to appear on the receipt. Right now we are implementing our Receipt1 with changes requested by TN.

AOCG updated software methodology: we recommend using the revised Receipt1. If you prefer to use another receipt, please make sure it complies with TN regulations and let us know if any changes are needed.

SH will provide a sample of receipt. KL is using Receipt1, wants to keep the same with TN changes. RS will use Receipt1 unless state advises otherwise. JM says use current receipt, will let AOCG know if any changes are needed. RB says AOCG receipt is okay.

Minimum Payment: What happens to the scheduled minimum payment when the principal payment is in arrears? Does the minimum payment include the 5% that was not previously paid, or do you just not worry about that until the loan is paid off? Right now the current plan is to require the F&I with an option to defer the 5% principal reduction. To show principal in arrears separately, we will need to know which receipt number in our program your company is using and how you would want the receipt to be worded without confusing your clients.

AOCG updated software methodology: the required minimum payment will be F&I only. The minimum payment including the 5% principal will be called the "renewal payment" and will be displayed but not required by the software. It is your decision whether to require and enforce the renewal payment. The majority of our clients will ask for the renewal payment but accept the F&I minimum payment.

CB says include principal in arrears. SH says show min. payment w/o principal in arrears, show principal in arrears separately. KL says AOCG method. JM wants to enter arbitrary min. payment manually, then have the computer automatically bump up if state required min. payment is higher. RB says AOCG method.

Multiple Loans: Section (12)(a)(16) specifically prohibits the consolidation of title pledge agreements. However, a customer may have more than one loan provided the following conditions are met: 1) each loan is made separately; 2) a 5% principal reduction is made at the 3rd and subsequent renewal for each loan; and 3) loans are made to the same borrower, on the same title, from the same lender at the same location and combination of all outstanding loan balances shall not exceed $2,500. If the term "loan balances" means outstanding principal balances, multiple loans should not be a problem. However, if the term "loan balances" is meant to include all fees and interest, you will have to be very careful not to make multiple loans that may exceed $2,500 including fees and interest on both loans. Our software does support multiple loans and has a customer credit limit capability, but it does not stop future fees and interest from exceeding $2,500.

AOCG updated software methodology: there is a question as to whether multiple vehicles allows loans over $2,500 combined. Our opinion is that it seems the limit is $2,500 per vehicle, not per client. But this is your call, not a programming issue.

CB interprets "loan balances" to be "outstanding principal balances." KL agrees. RS agrees. JM agrees. RB agrees. RH agrees. SH agrees, thinks multiple loans on multiple vehicles may allow loans above $2,500.

30 Day Loans: State-mandated 30 day loan periods means all entries in the Due Date Exclusion file should be deleted (per 45-15-110).

Lien Form: TN Application for Noting of Lien on Certificate of Title. Do you want the system to be able to fill out this form on a laser printer? If so, please fax the form you use to 615-751-9975, with a cover letter with your company name if you want the form to print on plain paper. If you want the original form to be inserted in the printer and filled out by the program, please mail us several originals of the form you use and be sure to include your company name and contact information.

AOCG updated software methodology: we will add the lien form if time permits, but to do so we will need your company to mail us some original forms (not copies) for testing.

Release of Lien Reminder: One of our clients suggested a reminder if a loan has been paid and a "release of lien" checkbox has not been checked. This reminder might start on the 15th day and count down until the 30th day until the checkbox is checked. Would you use such a feature, or find it annoying? Right now we are not planning on implementing this feature.

Consensus vote: No, more trouble than it's worth.

Separate TL cash drawer: Do you want separate cash drawer reporting for cash advances, check cashing and title loans required? With this program change, all TL transactions would go to one cash drawer, all CA transactions would go to one other cash drawer, and there would be an option for CC transactions to either go to a third cash drawer, or to the CA drawer. Please note that this method is not compatible with cash drawers being assigned to each employee at login time. Please tell us your preference? [RA will do this if time permits, not required by TN.

Consensus vote: No, most customers will assign cash drawers to employees, not a loan type.

Reports: Will you need any changes to the current reports to help keep your TL operations separate from your CA, CC and other operations? We are not planning any report changes unless so requested by our clients, other than the cash drawer change mentioned above, if so requested by our clients.

Consensus vote: No report changes needed.

Questions posed to Steve Henley (these questions have been posed to TN but not yet answered). If you have additional questions, now is the time to let us know!

Steve, Here is a list of questions our clients have posed to which we still don't have clear answers. Your help would be greatly appreciated. If you can respond to these questions, we will forward your responses to our numerous TN clients, which may save you a number of phone calls. It might be a good idea to cut and paste the questions and answers to the web site. That might help greatly reduce the volume of calls you get as the Nov. 1 deadline nears. – Mike Burch, Alpha Omega Consulting Group, Inc.

Should the Social Security Number appear on the contract (1) in full, (2) not at all, (3) like a credit card, for example: ***-**-7709.

If the current contract does not contain a clause stating that the loan is auto-renewing, can the lender do a one-time "wash" refinance the first time the client comes in after November, to get the loan on a valid signed contract? For instance, the client comes in owing $100 in principal and $22 in F&I. He pays $22 and leaves still owing $122. He has not "refinanced" in terms of the funds for one loan actually paying off another loan, but the principal he owes has simply been transferred to a new valid contract. Is this permissible on a one-time basis? If not, what can lenders do about grandfathered loans where the original contract wording may not be "up to snuff?" Is there a Plan B?

If a client is ahead of schedule on paying back his principal, then wants to "take a breather" on one payment, is this allowed as long as he is ahead of his pre-computed schedule? For instance, before the third renewal, a client with a $1,000 loan has already paid back $900 of his principal, owing only $100 when the first 5% principal reduction is due. According to the pre-computed schedule, his minimum payment would be $220 + $50 = $270. But based on his actual principal, his payment is only $22. Is it okay to not require an additional 5% principal reduction as long as the client is ahead of the pre-computed schedule and his minimum payment is less than the pre-computed minimum payment? Or is the additional 5% always required, regardless?

Our clients need to know if they can still accrue interest when a loan is in default but has not yet been located and thus not repossessed, or if a client is past due but not yet in default. We have heard that there may be a 60 day period in which the loan can continue to automatically renew. Can you confirm this? If not, our clients may be forced to repossess even though neither the lender or the borrower want the repossession to take place. Until there is a clear ruling on the 60 day period, what options do our clients have when their client is past due?

On the Repo Log, please confirm that the maturity date is the current payment due date (the end of the oldest unpaid loan period). For instance, if a payment was due on Nov 30 but the payment has not been paid, if the current month is Jan., would the maturity date still be Nov. 30? If not, please advise us how to calculate this. Also, does the "total owed" include fees/interest, or just unpaid principal?

On the Title Pledge Report, please confirm that the columns New and Renewal will have the appropriate word "New" or "Renewal" and that these are not dollar amount fields. Is the Date field the original loan date for a new loan and the renewal date if the loan has been renewed?

It would be helpful to see sample entries on the web site reports. It's hard to tell if some fields are Yes/No, words, dates, or dollar amounts. Some are obvious, but not all.

In the following, do you interpret "outstanding loan balances" to mean "outstanding principal balances" or something else? "Section (12)(a)(16) specifically prohibits the consolidation of title pledge agreements. However, a customer may have more than one loan provided the following conditions are met: 1) each loan is made separately; 2) a 5% principal reduction is made at the 3rd and subsequent renewal for each loan; and 3) loans are made to the same borrower, on the same title, from the same lender at the same location and combination of all outstanding loan balances shall not exceed $2,500." If "outstanding loan balances" does not mean "outstanding principal balances" then can a single loan of $2,500 accrue fees/interest, since this would put the "outstanding loan balance" over $2,500?

Thanks so much for your help.

Mike Burch
Alpha Omega Consulting Group, Inc.
In Tennessee 615-662-9537
Other States 1-866-802-5742